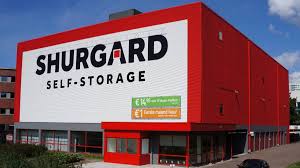 Public Storage Completes Transfer of 51% Interest in European Operations to the New York Common Retirement Fund GLENDALE, California–Public Storage announced the acquisition by the New York Common
Retirement Fund (NYCRF) of a 51% interest in Public Storage's Shurgard Europe operations for approximately €383.2 million ($606 million), plus an adjustment for operating results of Shurgard Europe from December 31, 2007 through March 31, 2008. Public Storage will own the remaining 49% interest and be the managing member of the newly formed joint venture that will own Shurgard Europe's operations.
The existing Shurgard Europe management team will continue operations in Brussels, Belgium. The new joint venture includes Shurgard's 20% equity interest in two existing ventures which are the subject of previously disclosed arbitration. If the remaining interests in those ventures can be acquired, they may be incorporated into the newly-formed entity. In connection with the transaction, the intercompany debt owed by Shurgard Europe to Public Storage was modified to (i) fix the interest rate at 7.5% per year, (ii) adjust the outstanding balance from approximately €381 million at December 31, 2007 to €391 million ($620 million) as of March 31, 2008, and (iii) modify the term of the loans to one year with an additional one year extension. In addition, Public Storage is committed to provide additional loans to Shurgard Europe, under these terms, up to €305 million to fund Shurgard Europe's obligations to repay existing third-party indebtedness owed by the two previously mentioned ventures (a total of €256 million at December 31, 2007) and the possible acquisition of the remaining interest in those two ventures.
Shurgard Europe intends to repay all of its intercompany debt to Public Storage through the issuance of third-party debt as soon as market conditions permit, but no later than March 31, 2010. Shurgard Europe also entered into a licensing agreement with Public Storage effective January 1, 2008, under which it will pay Public Storage a fee equal to 1.0% of its pro rata share of revenues in exchange for the rights to use the "Shurgard Europe" trade name. Public Storage expects to record a gain from the sale; however, the timing and amount have not yet been determined. In addition, any increase or decrease in the U.S. dollar versus the Euro is expected to be recorded as a currency gain or loss on the loan to Shurgard Europe. Shurgard Europe's operating results for the year ended December 31, 2007 included approximately $194.3 million and $92.2 million, respectively, of revenues and cost of operations related to the self-storage facilities; and $17.6 million and $5.2 million, respectively, of ancillary revenues and cost of operations. Included in these amounts are approximately $57.0 million and $37.3 million, respectively, of self-storage revenues and cost of operations, and $6.1 million and $1.8 million, respectively, in ancillary revenues and cost of operations, relating to self-storage facilities owned by the JVs in which Shurgard Europe has a 20% interest. These amounts were based upon the weighted average exchange rate of the dollar relative to the Euro of approximately 1.3698 to 1.000.